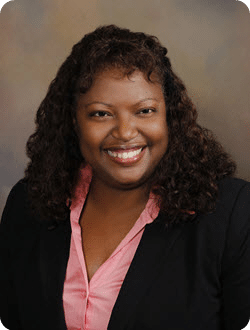 As a cadet at West Point and as an officer in the Army, Dominique Nicole Carmichael Braggs learned three important lessons that prepared her for her career as an attorney – be prepared, be dedicated and be fearless.
Dominique, who is licensed to practice law in Washington D.C. and Virginia, prides herself on providing her clients asset protection at every stage of life.
To that end, Dominique focuses on three specific areas of law – probate, estate planning and elder law issues.
Dominique earned her law degree from the University of Louisville Brandeis School of Law in Louisville, Ky., in May 2005.
Dominique graduated in 1994 from the United States Military Academy with a bachelor of science degree in international history. She minored in systems engineering. A member of the Phi Alpha Theta History Honor Society, she was on the Dean's List from 1992 to 1994.
After graduating, Dominique served as an officer in the Army Finance Corps.
"I learned proper preparation at the academy and in the military. Being diligent means you do comprehensive quality work from the start so you can avoid long adversarial litigation."
To that end, Dominique continues habits learned in the military, namely waking early to "get a good start at putting in a quality effort. Dedication pays off in the final product whether it is writing a good contract or providing quality representation for your client."
"I also learned to be fearless. That means that while you still fear doing something in particular you go and take care of it anyway. That's what prompted me to start my own firm and help others."
Since opening her law firm in 2008, Dominique has represented her clients in preparing wills, estate plans, guardianships, conservatorships, bankruptcy petitions and veterans' appeals. In her new practice at Carducci and Braggs, PLLC, Dominique focuses on probate, estate planning and family law.
While studying to become an attorney, Braggs worked for General Electric in Louisville, KY and Bloomington, IN. She held positions as a Process Engineer and Global Commodity Leader, and among other things she managed supplier accounts worth more than $40 million annually and managed inventory of more than one million pounds of steel, chemicals, and plastic used to make refrigerators.
While serving in the Army at Fort Hood, Texas, and in Korea from 1995 to 1999, Dominique's duties included controlling processing payments for 15,000 people exceeding $2 million per month.
Potential clients should choose her firm because she looks at a client as a person, not just as a case.
"I take your needs into consideration — I want to answer your questions," she said. "I don't have business hours. A lot of my clients are elderly so I am fairly mobile, visiting many of them in hospitals or nursing homes throughout the day."
Born in Washington, D.C., and raised in Arlington, Va., Dominique is well aware of what the people of the nation's capital and the Commonwealth of Virginia want and need.
Dominique Braggs, a divorced mother of three, has two daughters, 20 and 17, and a son, age 12.
You can reach Dominique Braggs at Carducci and Braggs, PLLC, 4601 N. Fairfax Dr., Suite 1200, Arlington, VA 22203 or call her toll-free direct at 1-888-210-9650 or fax her toll free at 1-888-210-9668.